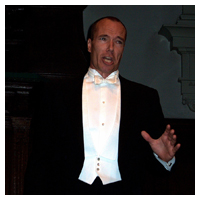 Arjan Man was born in 1968 in Amsterdam. At the age of 7 he started his singing career as a boy soprano in Paul Hameleers' boys choir. It was during this period that he sang the principal role of Gavin in the opera The two fiddlers (Peter Maxwell Davis) at the Holland Festival, as well as performances of the Dutch Opera Foundation in La Bohème and Der Rosenkavalier. Having achieved his Masters degree in Economics at the University of Amsterdam in 1994, Arjan Man resumed his singing studies, this time however as a bass/baritone, with Paul Hameleers and Paula de Wit. Currently he studies with James and Prizrenka McCray in The Hague. Pianist/vocal coach Hans Schellevis helped him with repertoire development and Arjan receives intensive acting classes from director Claudia van Rooij. Arjan's solo career began with the part of the Chamberlain in Stravinsky's Le Rossignol (stage director Claudia Christern) and as Marchese in Verdi's La Traviata, a production of Pierre Schuitemaker, He performed as Crespel/Hermann/Schlemil in Offenbach's Les contes d'Hoffmann (stage director Machteld van Bronkhorst, conductor Tom Löwenthal) and as Bob/Tom in the opera The little sweep (Britten), a production of the children's choir De Kickers. His first major role was Escamillo in La tragédie de Carmen, in the adaptation of Peter Brook of Bizet's original, directed by Marc Krone. This production was staged in Tilburg, Amsterdam and Ghent (Belgium). This continued with roles like Amonasro, Scarpia and later Marcello (Opera meets Strass productions in Amsterdam), staged by Claudia van Rooij and under musical direction of Maarten Hillenius and Ago Verdonschot. Furthermore, he regularly gives recitals with famous opera aria's and duets and more recently Schubert songs as well.
Experience in choirs
Before he started his solo career, Arjan Man had lots of experience in choruswork. He started doing this in Amsterdam, Sportshall South in Verdi's Aida. Since 1993 he was a member of the Opera in Ahoy' chorus of Louis Buskens and participated in the large scale opera productions of Nabucco (Verdi), Cavalleria Rusticana (Mascagni), Pagliacci (Leoncavallo), Carmen (Bizet), Turandot (Puccini), Aida (Verdi), La traviata (Verdi), Il trovatore (Verdi) and Rigoletto (Verdi). These productions have been staged in Rotterdam (Ahoy' and Luxor theatre), Arnhem (Gelredome), Antwerp (Sportpaleis) and the Concertgebouw (Amsterdam). CD and television registrations were made of many of them. During these productions he had the opportunity to work with many renowned conductors, such as Ed Spanjaard, Roberto Paternostro, Frank Cramer, Catherine Rückwardt, Paolo Olmi, and Louis Buskens. He has worked with the directors Dominik Neuner, Bernard Broca, Bruno Stefano, Petrika Ionesco and Gemma van Zeventer.
On the concert stage Arjan Man has sung since 1991 in various chamber choirs, which include the Collegium Musicum Amstellodamense, conducted by Kees de Wijs and the Amsterdamse Cantorij by Frank Hameleers. He has sung a broad repertoire, such as Monteverdi, Schütz, Purcell, Fauré, Mozart, Rossini, Brahms, Reger, Pärt, Poulenc, Penderecki, Bartelink, Britten, Barber and Copland. In these concerts he sang various smaller solo roles. These concerts were given in various churches and concert halls throughout The Netherlands, including the Walonian church, the New Church and the Concertgebouw in Amsterdam and the St. Bavo cathedral in Haarlem.
Rol – Opera – Componist
Scarpia – Tosca – G. Puccini
Marcello – La Bohème – G. Puccini
Macbeth – Macbeth – G. Verdi
Amonasro – Aida – G. Verdi
Don Giovanni – Don Giovanni – W.A. Mozart
Conte – Le nozze di Figaro – W.A. Mozart
Escamillo – Carmen – G. Bizet
Alfio – Cavalleria Rusticana – P. Mascagni
Jochanaan – Salome – R. Strauss
Pizarro – Fidelio – L. van Beethoven
Vater – Hansel und Gretel – E. Humperdink
Holländer – Der Fliegende Holländer – R Wagner
Wotan – Die Walküre – R. Wagner
Vodnik/Wasserman – Rusalka – A. Dvorak
Kékszakállú (Blauwbaard) – Blauwbaard's burcht – B. Bartok
Rol - Werk - Componist

Solo's - Winterreise - Schubert
Aria's en solo's - Matthäus Passion - Bach
Aria's en solo's - Johannes Passion - Bach
telefoon
+31 (0)651 18 37 33
mail
arjanoperaman [apestaartje] yahoo [punt] com